Following a surge of COVID-19 cases in the Philippines this year, local government officials and OceanaGold's Didipio Mine repurposed the Didipio Family Health Centre as an isolation unit to help manage and treat people within the Didipio and neighbouring communities.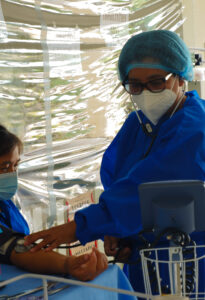 The Mine turned over the facility to Barangay Didipio as a health facility in 2018, to cater for the emergency health needs of the community. In June this year, as the number of COVID-19 cases in community increased, Lolita Kigi-e, one of the Mine's Occupational Health Supervisors, was seconded to spearhead the operation of the Didipio Family Health Centre as a COVID-19 facility. Lolita, a Didipio resident and a registered nurse who worked in Saudi Arabia for over six years, was pleased to accept the assignment and serve her fellow Didipio residents.
Renovations were undertaken to meet the requirements of the Department of Health (DOH) for the Centre to serve as a COVID-19 isolation facility. The Centre was re-opened, fully equipped with medicines and supplies, including emergency response equipment, appropriate PPE and Rapid Antigen Test kits. It's now staffed by five nurses and two nursing aides.
Since opening, the facility has hired two health consultants – a surgeon and an internist – to conduct consultations and minor surgery every Tuesday and Thursday. This service has eased the burden on community members who needed to obtain COVID-19 related travel documents in order to leave their barangay for other medical treatments. The Centre has also hired on-call specialists, including an obstetrics gynaecologist, paediatricians and a sonologist, who consult on site as required by the community. With the additional medical staff, the Centre has been able to treat patients who cannot be admitted to hospital due to a shortage of available beds.
Didipio Mine Occupational Health Supervisor, Lolita Kigi-e, said the Mine was committed to helping the local government units and the Didipio Family Health Centre support the health and wellbeing of the people in Didipio and adjacent communities.
"Originally the Centre was built with a 10-bed capacity, but it can now accommodate up to 15 patients and it has the capacity to treat patients who have COVID-19 symptoms who are isolating, and those who require treatment," Lolita said.
"Since opening in June, the Centre has served 62 COVID-19 patients, with most being classified as severe, and 11 non-COVID-19 cases diagnosed with pneumonia, most requiring paediatric services," she said.
"The Centre has also conducted more than 900 Rapid Antigen Tests and is providing contact tracing services in partnership with the Barangay Health Station."
"While acting as an isolation facility, the Centre still provides routine and emergency medical services to roughly 15-20 people per day," Lolita said.
The Didipio Mine has invested PhP13.1 million (over US$261,000) constructing, re-fitting and equipping the Centre and has allocated an additional Php12.4million (over $US247,000) to support the Centre's COVID-19 operating expenses.  Barangay Didipio also continues to support the operation of the Centre from its Social Development and Management Fund.