At OceanaGold, giving back is part of our DNA.
We often talk about responsible mining and sustainability being fundamental to the way we do business, but what does that look like in our day to day lives?
"We live and work in the communities that host our operations. We are part of the community and its critically important we get involved and build and maintain meaningful relationships," said OceanaGold President and CEO Michael Holmes.
"We pride ourselves as being responsible miners and giving back to the community comes naturally to OceanaGold and our employees – it's part of our culture," he said.
2020 has been a challenging year for everyone. This year, OceanaGold has assisted communities through the global pandemic by donating time and goods and helping local economies by forming partnerships.
Let's look at some of the ways OceanaGold and its employees have contributed to our host communities in 2020.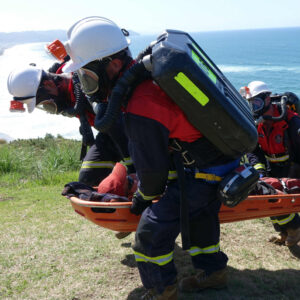 At our Waihi Operation in the North Island of New Zealand, a team of 30 volunteers established the Waihi Mines Recue Team and assist in emergency responses across the local community. The team has been involved in many rescues – of both the animal and human variety. During COVID-19, the volunteer team worked with the Waihi Salvation Army and local schools to deliver more than 240 essential food packages to families in need. They also raised over $20,000 for Leukaemia and Blood Cancer New Zealand in the Auckland Sky Tower Challenge.
In South Carolina in the United States where COVID-19 continues to be a challenge, our team (and their families) at the Haile Gold Mine dug deep to support the local community.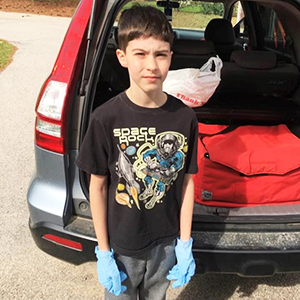 Jacob Clark, the nine-year-old son of Haile's Senior Health, Safety & Security Training Coordinator, and member of Haile's Mine Rescue Team, Russell Clark, helped to serve warm meals to elderly residents across Kershaw and Heath Springs. Other members of the Haile team made protective masks for the elderly and supported local nursing homes by supplying treats, games, art suppliers, greeting cards, murals, sidewalk art, stamps, and food and drink deliveries.
To continue supporting the community over the Christmas holiday period, the team organised two toy drives – the first with toys and donations for Samaritan's Purse, and the second for the Mt Calvary Outreach Center, which serves hundreds of local Kershaw children. Santa and his elves (all part of Haile's Mine Rescue Team) delivered the large pile of toys from under the Haile Family Christmas tree to the Depot for Mt Calvary's "Drive-Thru" Holiday Christmas Party.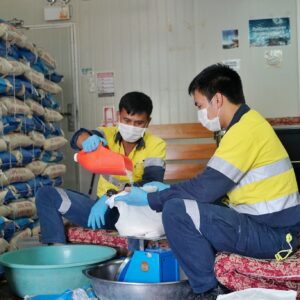 At the Didipio Mine in the Philippines, our team earmarked approximately PhP6-million Social Development Management Program funding to provide COVID-19 relief for the mine's host and adjacent communities.  The team packed and distributed relief goods, including food and medical supplies, to almost 19,000 households in Didipio and adjacent barangays, and donated more than 4,300 face masks, 4,000 surgical masks, 80 gallons sanitising alcohol and other PPE such as goggles, full body coveralls, and disposable gloves.
"We are doing the best we can to support our partner communities as they address this health crisis and respond during this difficult time," said Executive General Manager David Way.
Similar sentiment was felt by our team at the Macraes Operation in New Zealand's South Island, who donated two unused respirator fit test kits to the Dunedin Hospital to help ensure frontline heath workers were properly protected.
IT Engineer Gerard Hyland took part in the ShieldsUpNZ movement – a crowdsourced stopgap initiative for PPE in the early phases of the pandemic – which involved members of the community helping to make shields for doctors and other health professionals using 3D printers. Gerard worked around the clock, producing 12 shields every 24 hours.