Investing in the long game at Reefton
Environmental and Restoration Technician Megan Williams is a woman on a mission.
She's part of OceanaGold's team at the Reefton Restoration Project – the site of the former Globe Progress Mine – collecting and reporting on thousands of water samples and huge amounts of monitoring data, day after day, year after year, to give back the rehabilitated land on completion of the Project.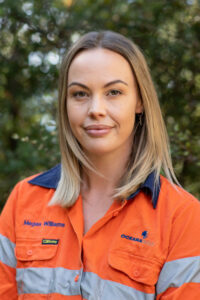 "There's no second chances when you're closing a mine – you have to get it right. We owe it to the environment and to the community to restore this beautiful landscape to the best of our ability," Megan said.
"I love working with people and a company that share these values and beliefs."
And that's what has kept Megan going since starting at OceanaGold in 2017. That, and the fact she is growing her skills every day by learning from experts in Reefton's environmental team.
"Some parts of my job, such as surveying, would normally be outsourced to contractors, but at OceanaGold there's a real desire to upskill in-house and build our capacity and knowledge for the broader industry.
"Being in the early part of my career, that's an enormous opportunity for me."
Megan refers to her role as the 'eyes and ears' on the ground at Reefton. She spends most of her time in the field keeping track of progress, sampling, completing monitoring tasks and providing data to the team and consultants.
Living locally and working on site over the past three years, there's not one square inch of the Project's 260-hectares she isn't familiar with.
Her role involves tagging and measuring trees as part of the Project's rehabilitation and replanting program. Given OceanaGold plans to plant approximately 1 million native species across the site, that is no mean feat.
In addition to replanting, reshaping is underway to ensure the natural environment is restored and visually integrated into the surrounding landscape.
Megan says: "The team on site has been working with consultants to design the Project's proposed passive water treatment system, which was chosen through a research project that I was heavily involved in. We have also been busy developing an engineered treatment wetland system at Fossickers Lake (the former Tailings Storage Facility)."
"We have developed a low maintenance, passive system which treats onsite water using gravel as a filter and gravity flows – not chemicals – before being discharged into the river system.
"This has involved a significant investment by the company during trials and developing techniques for long-term solutions.
"That's testament to OceanaGold's commitment to restoration and closure. It's so refreshing to work for an organisation that puts an enormous amount of trust into its operations' experts."
Apart from her day-to-day environmental role, Megan and the team directly engage with stakeholders by hosting events such as planting days with local schools, and site tours that provide an opportunity for the community to see first-hand the progress being made.
"Reefton is a small and closely-connected community. So many locals have either worked on the mine or have had relatives that did. Mining is a big part of the culture and history here.
"It's part of my job to educate and inform the community about what the closure process involves, and it's important to take them on the journey. When I take them on site tours, people are often so pleasantly surprised to see what the former mine looks like now.
"For example, Fossicker's Lake attracts native bird life…you can see we've got a new ecosystem establishing and it's incredibly rewarding to be a part of it.
"One day, when people come to the site, I hope they will be able to appreciate the rehabilitation work and enjoy the area as much as I do.
"More than anything, I hope people will look at Reefton and say it was a world-class example of mine closure. And that mining and the environment can co-exist when there's investment in people and technologies to get it right from the outset."